Desktop Support @ Dazzl Inc.
Remote desktop assistance is available to existing customers only and is powered by GoToAssist support software. If your system is able to connect to the Internet our technicians can quickly and easily take control of your system remotely to diagnose problems. This dramatically reduces incident resolution times without the delays associated with an on-site service call. Learn more
​
DAZZL maintains a modest FAQ of primarily Internet related material specific to the needs of our current customers.
​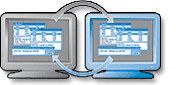 How it Works:
​
Step 1: The end user goes to the GoToAssist support portal and types in a support request. The Web-support request is then queued for the next available representative. With the end user's permission, the GoToAssist thin-client is downloaded to the end user's device while the end user is in the Web queue. The representative then begins a remote-support session with the end user.

Alternatively, the end user can move directly from a phone call with your representative to a remote-support session. To do so, the representative provides the end user with the Web portal URL and a unique connection code to begin the remote-support session.


Step 2: Your representative can immediately diagnose, troubleshoot and resolve the incident using a variety of incident-resolution tools, including:
ChatLink

Remote Diagnostics

File Transfer

Reboot/Reconnect

Remote Viewing/Control

Whiteboard

Multichat

Session transfer
Step 3: At the end of the session, the end user immediately provides input on the support experience, enabling your organization to address session metrics and maintain a high standard of customer satisfaction and loyalty.
​
​